cAR/PE! – 3D Teleconferencing
abstract
We have developed an Augmented Virtuality (AV) based videoconferencing (VC) system: "cAR/PE!". Our first solution allows three participants at different locations to communicate over a network in an environment simulating a traditional face-to-face meeting. Integrated into the AV environment are live video streams of the participants spatially arranged around a virtual table, a large virtual presentation screen for 2D display and application sharing, and 3D geometry (models) within the room and on top of a virtual table.
main features
Enabling local, regional, and worldwide collaboration
3D-Videoconferencing on the Desk
Enabling ad-hoc and natural communication
One System for Communication, 3D-Data, and Presentation
Low-Cost systems
Distributed Data Integration (PDM)
Minimal Infrastructure Requirements
Remote Application Sharing
Highly Innovative and Enjoyable; Increasing Quality, Reducing Delays; Reducing Travel Time
application fields
all meeting scenarios with remote participants
3D product evaluation
interface evaluation (3D User Interfaces - 3DUI)
references
Regenbrecht, H., Lum, T., Kohler, P., Ott, C., Wagner, M., Wilke, W., Mueller, E. (2004). Using Augmented Virtuality for Remote Collaboration. Presence: Teleoperators and virtual environments, June 2004.
Regenbrecht, Ott, C., Wagner, M., H., Lum, T., Kohler, P., Wilke, W., Mueller, E. (2003). An Augmented Virtuality Approach to 3D Videoconferencing. International Symposium on Mixed and Augmented Reality, Tokyo/Japan, October 2003.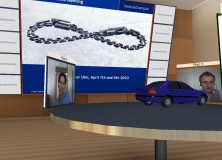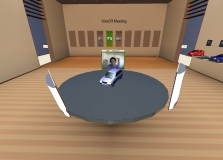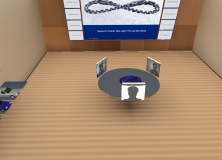 cAR/PE! screen shots
( ! )

Notice: Use of undefined constant c - assumed 'c' in /home3/unternehmen/public_html/igroup/_layout/footer.php on line 1
Call Stack
#
Time
Memory
Function
Location
1
0.0006
224736
{main}( )
.../index.php:0
2
0.0008
248992
include( '/home3/unternehmen/public_html/igroup/_layout/footer.php' )
.../index.php:44
( ! )

Notice: Use of undefined constant c - assumed 'c' in /home3/unternehmen/public_html/igroup/_layout/footer.php on line 1
Call Stack
#
Time
Memory
Function
Location
1
0.0006
224736
{main}( )
.../index.php:0
2
0.0008
248992
include( '/home3/unternehmen/public_html/igroup/_layout/footer.php' )
.../index.php:44
( ! )

Notice: Use of undefined constant c - assumed 'c' in /home3/unternehmen/public_html/igroup/_layout/footer.php on line 1
Call Stack
#
Time
Memory
Function
Location
1
0.0006
224736
{main}( )
.../index.php:0
2
0.0008
248992
include( '/home3/unternehmen/public_html/igroup/_layout/footer.php' )
.../index.php:44
( ! )

Notice: Use of undefined constant c - assumed 'c' in /home3/unternehmen/public_html/igroup/_layout/footer.php on line 1
Call Stack
#
Time
Memory
Function
Location
1
0.0006
224736
{main}( )
.../index.php:0
2
0.0008
248992
include( '/home3/unternehmen/public_html/igroup/_layout/footer.php' )
.../index.php:44
( ! )

Notice: Use of undefined constant c - assumed 'c' in /home3/unternehmen/public_html/igroup/_layout/footer.php on line 1
Call Stack
#
Time
Memory
Function
Location
1
0.0006
224736
{main}( )
.../index.php:0
2
0.0008
248992
include( '/home3/unternehmen/public_html/igroup/_layout/footer.php' )
.../index.php:44
( ! )

Notice: Use of undefined constant c - assumed 'c' in /home3/unternehmen/public_html/igroup/_layout/footer.php on line 1
Call Stack
#
Time
Memory
Function
Location
1
0.0006
224736
{main}( )
.../index.php:0
2
0.0008
248992
include( '/home3/unternehmen/public_html/igroup/_layout/footer.php' )
.../index.php:44
( ! )

Notice: Use of undefined constant c - assumed 'c' in /home3/unternehmen/public_html/igroup/_layout/footer.php on line 1
Call Stack
#
Time
Memory
Function
Location
1
0.0006
224736
{main}( )
.../index.php:0
2
0.0008
248992
include( '/home3/unternehmen/public_html/igroup/_layout/footer.php' )
.../index.php:44
( ! )

Notice: Use of undefined constant c - assumed 'c' in /home3/unternehmen/public_html/igroup/_layout/footer.php on line 1
Call Stack
#
Time
Memory
Function
Location
1
0.0006
224736
{main}( )
.../index.php:0
2
0.0008
248992
include( '/home3/unternehmen/public_html/igroup/_layout/footer.php' )
.../index.php:44
( ! )

Notice: Use of undefined constant c - assumed 'c' in /home3/unternehmen/public_html/igroup/_layout/footer.php on line 1
Call Stack
#
Time
Memory
Function
Location
1
0.0006
224736
{main}( )
.../index.php:0
2
0.0008
248992
include( '/home3/unternehmen/public_html/igroup/_layout/footer.php' )
.../index.php:44
( ! )

Notice: Use of undefined constant c - assumed 'c' in /home3/unternehmen/public_html/igroup/_layout/footer.php on line 1
Call Stack
#
Time
Memory
Function
Location
1
0.0006
224736
{main}( )
.../index.php:0
2
0.0008
248992
include( '/home3/unternehmen/public_html/igroup/_layout/footer.php' )
.../index.php:44
( ! )

Notice: Use of undefined constant c - assumed 'c' in /home3/unternehmen/public_html/igroup/_layout/footer.php on line 1
Call Stack
#
Time
Memory
Function
Location
1
0.0006
224736
{main}( )
.../index.php:0
2
0.0008
248992
include( '/home3/unternehmen/public_html/igroup/_layout/footer.php' )
.../index.php:44
( ! )

Notice: Use of undefined constant c - assumed 'c' in /home3/unternehmen/public_html/igroup/_layout/footer.php on line 1
Call Stack
#
Time
Memory
Function
Location
1
0.0006
224736
{main}( )
.../index.php:0
2
0.0008
248992
include( '/home3/unternehmen/public_html/igroup/_layout/footer.php' )
.../index.php:44
( ! )

Notice: Use of undefined constant c - assumed 'c' in /home3/unternehmen/public_html/igroup/_layout/footer.php on line 1
Call Stack
#
Time
Memory
Function
Location
1
0.0006
224736
{main}( )
.../index.php:0
2
0.0008
248992
include( '/home3/unternehmen/public_html/igroup/_layout/footer.php' )
.../index.php:44
( ! )

Notice: Use of undefined constant c - assumed 'c' in /home3/unternehmen/public_html/igroup/_layout/footer.php on line 1
Call Stack
#
Time
Memory
Function
Location
1
0.0006
224736
{main}( )
.../index.php:0
2
0.0008
248992
include( '/home3/unternehmen/public_html/igroup/_layout/footer.php' )
.../index.php:44
( ! )

Notice: Use of undefined constant c - assumed 'c' in /home3/unternehmen/public_html/igroup/_layout/footer.php on line 1
Call Stack
#
Time
Memory
Function
Location
1
0.0006
224736
{main}( )
.../index.php:0
2
0.0008
248992
include( '/home3/unternehmen/public_html/igroup/_layout/footer.php' )
.../index.php:44
( ! )

Notice: Use of undefined constant c - assumed 'c' in /home3/unternehmen/public_html/igroup/_layout/footer.php on line 1
Call Stack
#
Time
Memory
Function
Location
1
0.0006
224736
{main}( )
.../index.php:0
2
0.0008
248992
include( '/home3/unternehmen/public_html/igroup/_layout/footer.php' )
.../index.php:44
( ! )

Notice: Use of undefined constant c - assumed 'c' in /home3/unternehmen/public_html/igroup/_layout/footer.php on line 1
Call Stack
#
Time
Memory
Function
Location
1
0.0006
224736
{main}( )
.../index.php:0
2
0.0008
248992
include( '/home3/unternehmen/public_html/igroup/_layout/footer.php' )
.../index.php:44
( ! )

Notice: Use of undefined constant c - assumed 'c' in /home3/unternehmen/public_html/igroup/_layout/footer.php on line 1
Call Stack
#
Time
Memory
Function
Location
1
0.0006
224736
{main}( )
.../index.php:0
2
0.0008
248992
include( '/home3/unternehmen/public_html/igroup/_layout/footer.php' )
.../index.php:44
( ! )

Notice: Use of undefined constant c - assumed 'c' in /home3/unternehmen/public_html/igroup/_layout/footer.php on line 1
Call Stack
#
Time
Memory
Function
Location
1
0.0006
224736
{main}( )
.../index.php:0
2
0.0008
248992
include( '/home3/unternehmen/public_html/igroup/_layout/footer.php' )
.../index.php:44
( ! )

Notice: Use of undefined constant c - assumed 'c' in /home3/unternehmen/public_html/igroup/_layout/footer.php on line 1
Call Stack
#
Time
Memory
Function
Location
1
0.0006
224736
{main}( )
.../index.php:0
2
0.0008
248992
include( '/home3/unternehmen/public_html/igroup/_layout/footer.php' )
.../index.php:44
( ! )

Notice: Use of undefined constant c - assumed 'c' in /home3/unternehmen/public_html/igroup/_layout/footer.php on line 1
Call Stack
#
Time
Memory
Function
Location
1
0.0006
224736
{main}( )
.../index.php:0
2
0.0008
248992
include( '/home3/unternehmen/public_html/igroup/_layout/footer.php' )
.../index.php:44
( ! )

Notice: Use of undefined constant c - assumed 'c' in /home3/unternehmen/public_html/igroup/_layout/footer.php on line 1
Call Stack
#
Time
Memory
Function
Location
1
0.0006
224736
{main}( )
.../index.php:0
2
0.0008
248992
include( '/home3/unternehmen/public_html/igroup/_layout/footer.php' )
.../index.php:44
( ! )

Notice: Use of undefined constant c - assumed 'c' in /home3/unternehmen/public_html/igroup/_layout/footer.php on line 1
Call Stack
#
Time
Memory
Function
Location
1
0.0006
224736
{main}( )
.../index.php:0
2
0.0008
248992
include( '/home3/unternehmen/public_html/igroup/_layout/footer.php' )
.../index.php:44
( ! )

Notice: Use of undefined constant c - assumed 'c' in /home3/unternehmen/public_html/igroup/_layout/footer.php on line 1
Call Stack
#
Time
Memory
Function
Location
1
0.0006
224736
{main}( )
.../index.php:0
2
0.0008
248992
include( '/home3/unternehmen/public_html/igroup/_layout/footer.php' )
.../index.php:44
( ! )

Notice: Use of undefined constant c - assumed 'c' in /home3/unternehmen/public_html/igroup/_layout/footer.php on line 1
Call Stack
#
Time
Memory
Function
Location
1
0.0006
224736
{main}( )
.../index.php:0
2
0.0008
248992
include( '/home3/unternehmen/public_html/igroup/_layout/footer.php' )
.../index.php:44
( ! )

Notice: Use of undefined constant c - assumed 'c' in /home3/unternehmen/public_html/igroup/_layout/footer.php on line 1
Call Stack
#
Time
Memory
Function
Location
1
0.0006
224736
{main}( )
.../index.php:0
2
0.0008
248992
include( '/home3/unternehmen/public_html/igroup/_layout/footer.php' )
.../index.php:44
( ! )

Notice: Use of undefined constant c - assumed 'c' in /home3/unternehmen/public_html/igroup/_layout/footer.php on line 1
Call Stack
#
Time
Memory
Function
Location
1
0.0006
224736
{main}( )
.../index.php:0
2
0.0008
248992
include( '/home3/unternehmen/public_html/igroup/_layout/footer.php' )
.../index.php:44
( ! )

Notice: Use of undefined constant c - assumed 'c' in /home3/unternehmen/public_html/igroup/_layout/footer.php on line 1
Call Stack
#
Time
Memory
Function
Location
1
0.0006
224736
{main}( )
.../index.php:0
2
0.0008
248992
include( '/home3/unternehmen/public_html/igroup/_layout/footer.php' )
.../index.php:44
( ! )

Notice: Use of undefined constant c - assumed 'c' in /home3/unternehmen/public_html/igroup/_layout/footer.php on line 1
Call Stack
#
Time
Memory
Function
Location
1
0.0006
224736
{main}( )
.../index.php:0
2
0.0008
248992
include( '/home3/unternehmen/public_html/igroup/_layout/footer.php' )
.../index.php:44
( ! )

Notice: Use of undefined constant c - assumed 'c' in /home3/unternehmen/public_html/igroup/_layout/footer.php on line 1
Call Stack
#
Time
Memory
Function
Location
1
0.0006
224736
{main}( )
.../index.php:0
2
0.0008
248992
include( '/home3/unternehmen/public_html/igroup/_layout/footer.php' )
.../index.php:44
( ! )

Notice: Use of undefined constant c - assumed 'c' in /home3/unternehmen/public_html/igroup/_layout/footer.php on line 1
Call Stack
#
Time
Memory
Function
Location
1
0.0006
224736
{main}( )
.../index.php:0
2
0.0008
248992
include( '/home3/unternehmen/public_html/igroup/_layout/footer.php' )
.../index.php:44
( ! )

Notice: Use of undefined constant c - assumed 'c' in /home3/unternehmen/public_html/igroup/_layout/footer.php on line 1
Call Stack
#
Time
Memory
Function
Location
1
0.0006
224736
{main}( )
.../index.php:0
2
0.0008
248992
include( '/home3/unternehmen/public_html/igroup/_layout/footer.php' )
.../index.php:44
( ! )

Notice: Use of undefined constant c - assumed 'c' in /home3/unternehmen/public_html/igroup/_layout/footer.php on line 1
Call Stack
#
Time
Memory
Function
Location
1
0.0006
224736
{main}( )
.../index.php:0
2
0.0008
248992
include( '/home3/unternehmen/public_html/igroup/_layout/footer.php' )
.../index.php:44
( ! )

Notice: Use of undefined constant c - assumed 'c' in /home3/unternehmen/public_html/igroup/_layout/footer.php on line 1
Call Stack
#
Time
Memory
Function
Location
1
0.0006
224736
{main}( )
.../index.php:0
2
0.0008
248992
include( '/home3/unternehmen/public_html/igroup/_layout/footer.php' )
.../index.php:44
( ! )

Notice: Use of undefined constant c - assumed 'c' in /home3/unternehmen/public_html/igroup/_layout/footer.php on line 1
Call Stack
#
Time
Memory
Function
Location
1
0.0006
224736
{main}( )
.../index.php:0
2
0.0008
248992
include( '/home3/unternehmen/public_html/igroup/_layout/footer.php' )
.../index.php:44
( ! )

Notice: Use of undefined constant c - assumed 'c' in /home3/unternehmen/public_html/igroup/_layout/footer.php on line 1
Call Stack
#
Time
Memory
Function
Location
1
0.0006
224736
{main}( )
.../index.php:0
2
0.0008
248992
include( '/home3/unternehmen/public_html/igroup/_layout/footer.php' )
.../index.php:44
( ! )

Notice: Use of undefined constant c - assumed 'c' in /home3/unternehmen/public_html/igroup/_layout/footer.php on line 1
Call Stack
#
Time
Memory
Function
Location
1
0.0006
224736
{main}( )
.../index.php:0
2
0.0008
248992
include( '/home3/unternehmen/public_html/igroup/_layout/footer.php' )
.../index.php:44
( ! )

Notice: Use of undefined constant c - assumed 'c' in /home3/unternehmen/public_html/igroup/_layout/footer.php on line 1
Call Stack
#
Time
Memory
Function
Location
1
0.0006
224736
{main}( )
.../index.php:0
2
0.0008
248992
include( '/home3/unternehmen/public_html/igroup/_layout/footer.php' )
.../index.php:44
( ! )

Notice: Use of undefined constant c - assumed 'c' in /home3/unternehmen/public_html/igroup/_layout/footer.php on line 1
Call Stack
#
Time
Memory
Function
Location
1
0.0006
224736
{main}( )
.../index.php:0
2
0.0008
248992
include( '/home3/unternehmen/public_html/igroup/_layout/footer.php' )
.../index.php:44
( ! )

Notice: Use of undefined constant c - assumed 'c' in /home3/unternehmen/public_html/igroup/_layout/footer.php on line 1
Call Stack
#
Time
Memory
Function
Location
1
0.0006
224736
{main}( )
.../index.php:0
2
0.0008
248992
include( '/home3/unternehmen/public_html/igroup/_layout/footer.php' )
.../index.php:44
( ! )

Notice: Use of undefined constant c - assumed 'c' in /home3/unternehmen/public_html/igroup/_layout/footer.php on line 1
Call Stack
#
Time
Memory
Function
Location
1
0.0006
224736
{main}( )
.../index.php:0
2
0.0008
248992
include( '/home3/unternehmen/public_html/igroup/_layout/footer.php' )
.../index.php:44
( ! )

Notice: Use of undefined constant c - assumed 'c' in /home3/unternehmen/public_html/igroup/_layout/footer.php on line 1
Call Stack
#
Time
Memory
Function
Location
1
0.0006
224736
{main}( )
.../index.php:0
2
0.0008
248992
include( '/home3/unternehmen/public_html/igroup/_layout/footer.php' )
.../index.php:44
( ! )

Notice: Use of undefined constant c - assumed 'c' in /home3/unternehmen/public_html/igroup/_layout/footer.php on line 1
Call Stack
#
Time
Memory
Function
Location
1
0.0006
224736
{main}( )
.../index.php:0
2
0.0008
248992
include( '/home3/unternehmen/public_html/igroup/_layout/footer.php' )
.../index.php:44
( ! )

Notice: Use of undefined constant c - assumed 'c' in /home3/unternehmen/public_html/igroup/_layout/footer.php on line 1
Call Stack
#
Time
Memory
Function
Location
1
0.0006
224736
{main}( )
.../index.php:0
2
0.0008
248992
include( '/home3/unternehmen/public_html/igroup/_layout/footer.php' )
.../index.php:44
( ! )

Notice: Use of undefined constant c - assumed 'c' in /home3/unternehmen/public_html/igroup/_layout/footer.php on line 1
Call Stack
#
Time
Memory
Function
Location
1
0.0006
224736
{main}( )
.../index.php:0
2
0.0008
248992
include( '/home3/unternehmen/public_html/igroup/_layout/footer.php' )
.../index.php:44
( ! )

Notice: Use of undefined constant c - assumed 'c' in /home3/unternehmen/public_html/igroup/_layout/footer.php on line 1
Call Stack
#
Time
Memory
Function
Location
1
0.0006
224736
{main}( )
.../index.php:0
2
0.0008
248992
include( '/home3/unternehmen/public_html/igroup/_layout/footer.php' )
.../index.php:44
( ! )

Notice: Use of undefined constant c - assumed 'c' in /home3/unternehmen/public_html/igroup/_layout/footer.php on line 1
Call Stack
#
Time
Memory
Function
Location
1
0.0006
224736
{main}( )
.../index.php:0
2
0.0008
248992
include( '/home3/unternehmen/public_html/igroup/_layout/footer.php' )
.../index.php:44
( ! )

Notice: Use of undefined constant c - assumed 'c' in /home3/unternehmen/public_html/igroup/_layout/footer.php on line 1
Call Stack
#
Time
Memory
Function
Location
1
0.0006
224736
{main}( )
.../index.php:0
2
0.0008
248992
include( '/home3/unternehmen/public_html/igroup/_layout/footer.php' )
.../index.php:44
( ! )

Notice: Use of undefined constant c - assumed 'c' in /home3/unternehmen/public_html/igroup/_layout/footer.php on line 1
Call Stack
#
Time
Memory
Function
Location
1
0.0006
224736
{main}( )
.../index.php:0
2
0.0008
248992
include( '/home3/unternehmen/public_html/igroup/_layout/footer.php' )
.../index.php:44
( ! )

Notice: Use of undefined constant c - assumed 'c' in /home3/unternehmen/public_html/igroup/_layout/footer.php on line 1
Call Stack
#
Time
Memory
Function
Location
1
0.0006
224736
{main}( )
.../index.php:0
2
0.0008
248992
include( '/home3/unternehmen/public_html/igroup/_layout/footer.php' )
.../index.php:44
( ! )

Notice: Use of undefined constant c - assumed 'c' in /home3/unternehmen/public_html/igroup/_layout/footer.php on line 1
Call Stack
#
Time
Memory
Function
Location
1
0.0006
224736
{main}( )
.../index.php:0
2
0.0008
248992
include( '/home3/unternehmen/public_html/igroup/_layout/footer.php' )
.../index.php:44
( ! )

Notice: Use of undefined constant c - assumed 'c' in /home3/unternehmen/public_html/igroup/_layout/footer.php on line 1
Call Stack
#
Time
Memory
Function
Location
1
0.0006
224736
{main}( )
.../index.php:0
2
0.0008
248992
include( '/home3/unternehmen/public_html/igroup/_layout/footer.php' )
.../index.php:44
( ! )

Notice: Use of undefined constant c - assumed 'c' in /home3/unternehmen/public_html/igroup/_layout/footer.php on line 1
Call Stack
#
Time
Memory
Function
Location
1
0.0006
224736
{main}( )
.../index.php:0
2
0.0008
248992
include( '/home3/unternehmen/public_html/igroup/_layout/footer.php' )
.../index.php:44
( ! )

Notice: Use of undefined constant c - assumed 'c' in /home3/unternehmen/public_html/igroup/_layout/footer.php on line 1
Call Stack
#
Time
Memory
Function
Location
1
0.0006
224736
{main}( )
.../index.php:0
2
0.0008
248992
include( '/home3/unternehmen/public_html/igroup/_layout/footer.php' )
.../index.php:44
( ! )

Notice: Use of undefined constant c - assumed 'c' in /home3/unternehmen/public_html/igroup/_layout/footer.php on line 1
Call Stack
#
Time
Memory
Function
Location
1
0.0006
224736
{main}( )
.../index.php:0
2
0.0008
248992
include( '/home3/unternehmen/public_html/igroup/_layout/footer.php' )
.../index.php:44
( ! )

Notice: Use of undefined constant c - assumed 'c' in /home3/unternehmen/public_html/igroup/_layout/footer.php on line 1
Call Stack
#
Time
Memory
Function
Location
1
0.0006
224736
{main}( )
.../index.php:0
2
0.0008
248992
include( '/home3/unternehmen/public_html/igroup/_layout/footer.php' )
.../index.php:44
( ! )

Notice: Use of undefined constant c - assumed 'c' in /home3/unternehmen/public_html/igroup/_layout/footer.php on line 1
Call Stack
#
Time
Memory
Function
Location
1
0.0006
224736
{main}( )
.../index.php:0
2
0.0008
248992
include( '/home3/unternehmen/public_html/igroup/_layout/footer.php' )
.../index.php:44
( ! )

Notice: Use of undefined constant c - assumed 'c' in /home3/unternehmen/public_html/igroup/_layout/footer.php on line 1
Call Stack
#
Time
Memory
Function
Location
1
0.0006
224736
{main}( )
.../index.php:0
2
0.0008
248992
include( '/home3/unternehmen/public_html/igroup/_layout/footer.php' )
.../index.php:44
( ! )

Notice: Use of undefined constant c - assumed 'c' in /home3/unternehmen/public_html/igroup/_layout/footer.php on line 1
Call Stack
#
Time
Memory
Function
Location
1
0.0006
224736
{main}( )
.../index.php:0
2
0.0008
248992
include( '/home3/unternehmen/public_html/igroup/_layout/footer.php' )
.../index.php:44
( ! )

Notice: Use of undefined constant c - assumed 'c' in /home3/unternehmen/public_html/igroup/_layout/footer.php on line 1
Call Stack
#
Time
Memory
Function
Location
1
0.0006
224736
{main}( )
.../index.php:0
2
0.0008
248992
include( '/home3/unternehmen/public_html/igroup/_layout/footer.php' )
.../index.php:44
( ! )

Notice: Use of undefined constant c - assumed 'c' in /home3/unternehmen/public_html/igroup/_layout/footer.php on line 1
Call Stack
#
Time
Memory
Function
Location
1
0.0006
224736
{main}( )
.../index.php:0
2
0.0008
248992
include( '/home3/unternehmen/public_html/igroup/_layout/footer.php' )
.../index.php:44
( ! )

Notice: Use of undefined constant c - assumed 'c' in /home3/unternehmen/public_html/igroup/_layout/footer.php on line 1
Call Stack
#
Time
Memory
Function
Location
1
0.0006
224736
{main}( )
.../index.php:0
2
0.0008
248992
include( '/home3/unternehmen/public_html/igroup/_layout/footer.php' )
.../index.php:44
( ! )

Notice: Use of undefined constant c - assumed 'c' in /home3/unternehmen/public_html/igroup/_layout/footer.php on line 1
Call Stack
#
Time
Memory
Function
Location
1
0.0006
224736
{main}( )
.../index.php:0
2
0.0008
248992
include( '/home3/unternehmen/public_html/igroup/_layout/footer.php' )
.../index.php:44
( ! )

Notice: Use of undefined constant c - assumed 'c' in /home3/unternehmen/public_html/igroup/_layout/footer.php on line 1
Call Stack
#
Time
Memory
Function
Location
1
0.0006
224736
{main}( )
.../index.php:0
2
0.0008
248992
include( '/home3/unternehmen/public_html/igroup/_layout/footer.php' )
.../index.php:44
( ! )

Notice: Use of undefined constant c - assumed 'c' in /home3/unternehmen/public_html/igroup/_layout/footer.php on line 1
Call Stack
#
Time
Memory
Function
Location
1
0.0006
224736
{main}( )
.../index.php:0
2
0.0008
248992
include( '/home3/unternehmen/public_html/igroup/_layout/footer.php' )
.../index.php:44
( ! )

Notice: Use of undefined constant c - assumed 'c' in /home3/unternehmen/public_html/igroup/_layout/footer.php on line 1
Call Stack
#
Time
Memory
Function
Location
1
0.0006
224736
{main}( )
.../index.php:0
2
0.0008
248992
include( '/home3/unternehmen/public_html/igroup/_layout/footer.php' )
.../index.php:44
( ! )

Notice: Use of undefined constant c - assumed 'c' in /home3/unternehmen/public_html/igroup/_layout/footer.php on line 1
Call Stack
#
Time
Memory
Function
Location
1
0.0006
224736
{main}( )
.../index.php:0
2
0.0008
248992
include( '/home3/unternehmen/public_html/igroup/_layout/footer.php' )
.../index.php:44
( ! )

Notice: Use of undefined constant c - assumed 'c' in /home3/unternehmen/public_html/igroup/_layout/footer.php on line 1
Call Stack
#
Time
Memory
Function
Location
1
0.0006
224736
{main}( )
.../index.php:0
2
0.0008
248992
include( '/home3/unternehmen/public_html/igroup/_layout/footer.php' )
.../index.php:44
( ! )

Notice: Use of undefined constant c - assumed 'c' in /home3/unternehmen/public_html/igroup/_layout/footer.php on line 1
Call Stack
#
Time
Memory
Function
Location
1
0.0006
224736
{main}( )
.../index.php:0
2
0.0008
248992
include( '/home3/unternehmen/public_html/igroup/_layout/footer.php' )
.../index.php:44
( ! )

Notice: Use of undefined constant c - assumed 'c' in /home3/unternehmen/public_html/igroup/_layout/footer.php on line 1
Call Stack
#
Time
Memory
Function
Location
1
0.0006
224736
{main}( )
.../index.php:0
2
0.0008
248992
include( '/home3/unternehmen/public_html/igroup/_layout/footer.php' )
.../index.php:44
( ! )

Notice: Use of undefined constant c - assumed 'c' in /home3/unternehmen/public_html/igroup/_layout/footer.php on line 1
Call Stack
#
Time
Memory
Function
Location
1
0.0006
224736
{main}( )
.../index.php:0
2
0.0008
248992
include( '/home3/unternehmen/public_html/igroup/_layout/footer.php' )
.../index.php:44
( ! )

Notice: Undefined offset: 12 in /home3/unternehmen/public_html/igroup/_layout/footer.php on line 1
Call Stack
#
Time
Memory
Function
Location
1
0.0006
224736
{main}( )
.../index.php:0
2
0.0008
248992
include( '/home3/unternehmen/public_html/igroup/_layout/footer.php' )
.../index.php:44