The MagicPen
abstract
In many Augmented Reality (AR) systems computer vision techniques are used to track user position and orientation, or to provide visual input for video see-through systems. Taking advantage of this we have developed the Magic Pen (MP) interface, where a real pen with Light Emitting Diodes (LEDs) mounted on it is tracked by a head mounted camera. The goal is to have an intuitive to use 5 degree of freedom (DOF) input device where the object affordances suggest how the object is to be used and match the requirements of the task.
main features
intuitive interaction device for AR and VR
wireless
inexpensive (less than EUR 10,-)
works with all camera based systems
can be used with popular ARToolKit library
application fields
3D product evaluation
VR research and development
rapid prototyping and digital mockup
architectural walkthrough and modeling
interface evaluation (3D User Interfaces - 3DUI)
testbed for experimental studies
educational training
...in almost all AR and VR setups
references
Regenbrecht, H.T., Baratoff, G., Poupyrev, I., and Billinghurst, M (2001). Wireless Interaction in AR Environments - The Magic Pen. Short paper presented at International Sympoium on Mixed Reality, March 2001, Yokohama/Japan.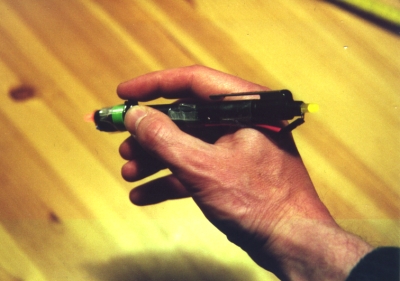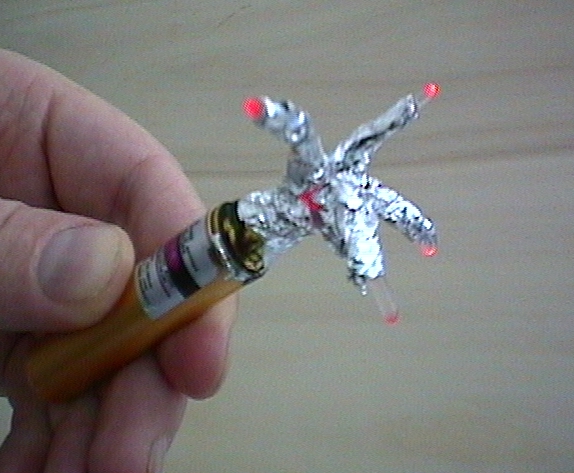 MagicPen variants
( ! )

Notice: Use of undefined constant c - assumed 'c' in /home3/unternehmen/public_html/igroup/_layout/footer.php on line 1
Call Stack
#
Time
Memory
Function
Location
1
0.0005
224792
{main}( )
.../index.php:0
2
0.0008
249048
include( '/home3/unternehmen/public_html/igroup/_layout/footer.php' )
.../index.php:42
( ! )

Notice: Use of undefined constant c - assumed 'c' in /home3/unternehmen/public_html/igroup/_layout/footer.php on line 1
Call Stack
#
Time
Memory
Function
Location
1
0.0005
224792
{main}( )
.../index.php:0
2
0.0008
249048
include( '/home3/unternehmen/public_html/igroup/_layout/footer.php' )
.../index.php:42
( ! )

Notice: Use of undefined constant c - assumed 'c' in /home3/unternehmen/public_html/igroup/_layout/footer.php on line 1
Call Stack
#
Time
Memory
Function
Location
1
0.0005
224792
{main}( )
.../index.php:0
2
0.0008
249048
include( '/home3/unternehmen/public_html/igroup/_layout/footer.php' )
.../index.php:42
( ! )

Notice: Use of undefined constant c - assumed 'c' in /home3/unternehmen/public_html/igroup/_layout/footer.php on line 1
Call Stack
#
Time
Memory
Function
Location
1
0.0005
224792
{main}( )
.../index.php:0
2
0.0008
249048
include( '/home3/unternehmen/public_html/igroup/_layout/footer.php' )
.../index.php:42
( ! )

Notice: Use of undefined constant c - assumed 'c' in /home3/unternehmen/public_html/igroup/_layout/footer.php on line 1
Call Stack
#
Time
Memory
Function
Location
1
0.0005
224792
{main}( )
.../index.php:0
2
0.0008
249048
include( '/home3/unternehmen/public_html/igroup/_layout/footer.php' )
.../index.php:42
( ! )

Notice: Use of undefined constant c - assumed 'c' in /home3/unternehmen/public_html/igroup/_layout/footer.php on line 1
Call Stack
#
Time
Memory
Function
Location
1
0.0005
224792
{main}( )
.../index.php:0
2
0.0008
249048
include( '/home3/unternehmen/public_html/igroup/_layout/footer.php' )
.../index.php:42
( ! )

Notice: Use of undefined constant c - assumed 'c' in /home3/unternehmen/public_html/igroup/_layout/footer.php on line 1
Call Stack
#
Time
Memory
Function
Location
1
0.0005
224792
{main}( )
.../index.php:0
2
0.0008
249048
include( '/home3/unternehmen/public_html/igroup/_layout/footer.php' )
.../index.php:42
( ! )

Notice: Use of undefined constant c - assumed 'c' in /home3/unternehmen/public_html/igroup/_layout/footer.php on line 1
Call Stack
#
Time
Memory
Function
Location
1
0.0005
224792
{main}( )
.../index.php:0
2
0.0008
249048
include( '/home3/unternehmen/public_html/igroup/_layout/footer.php' )
.../index.php:42
( ! )

Notice: Use of undefined constant c - assumed 'c' in /home3/unternehmen/public_html/igroup/_layout/footer.php on line 1
Call Stack
#
Time
Memory
Function
Location
1
0.0005
224792
{main}( )
.../index.php:0
2
0.0008
249048
include( '/home3/unternehmen/public_html/igroup/_layout/footer.php' )
.../index.php:42
( ! )

Notice: Use of undefined constant c - assumed 'c' in /home3/unternehmen/public_html/igroup/_layout/footer.php on line 1
Call Stack
#
Time
Memory
Function
Location
1
0.0005
224792
{main}( )
.../index.php:0
2
0.0008
249048
include( '/home3/unternehmen/public_html/igroup/_layout/footer.php' )
.../index.php:42
( ! )

Notice: Use of undefined constant c - assumed 'c' in /home3/unternehmen/public_html/igroup/_layout/footer.php on line 1
Call Stack
#
Time
Memory
Function
Location
1
0.0005
224792
{main}( )
.../index.php:0
2
0.0008
249048
include( '/home3/unternehmen/public_html/igroup/_layout/footer.php' )
.../index.php:42
( ! )

Notice: Use of undefined constant c - assumed 'c' in /home3/unternehmen/public_html/igroup/_layout/footer.php on line 1
Call Stack
#
Time
Memory
Function
Location
1
0.0005
224792
{main}( )
.../index.php:0
2
0.0008
249048
include( '/home3/unternehmen/public_html/igroup/_layout/footer.php' )
.../index.php:42
( ! )

Notice: Use of undefined constant c - assumed 'c' in /home3/unternehmen/public_html/igroup/_layout/footer.php on line 1
Call Stack
#
Time
Memory
Function
Location
1
0.0005
224792
{main}( )
.../index.php:0
2
0.0008
249048
include( '/home3/unternehmen/public_html/igroup/_layout/footer.php' )
.../index.php:42
( ! )

Notice: Use of undefined constant c - assumed 'c' in /home3/unternehmen/public_html/igroup/_layout/footer.php on line 1
Call Stack
#
Time
Memory
Function
Location
1
0.0005
224792
{main}( )
.../index.php:0
2
0.0008
249048
include( '/home3/unternehmen/public_html/igroup/_layout/footer.php' )
.../index.php:42
( ! )

Notice: Use of undefined constant c - assumed 'c' in /home3/unternehmen/public_html/igroup/_layout/footer.php on line 1
Call Stack
#
Time
Memory
Function
Location
1
0.0005
224792
{main}( )
.../index.php:0
2
0.0008
249048
include( '/home3/unternehmen/public_html/igroup/_layout/footer.php' )
.../index.php:42
( ! )

Notice: Use of undefined constant c - assumed 'c' in /home3/unternehmen/public_html/igroup/_layout/footer.php on line 1
Call Stack
#
Time
Memory
Function
Location
1
0.0005
224792
{main}( )
.../index.php:0
2
0.0008
249048
include( '/home3/unternehmen/public_html/igroup/_layout/footer.php' )
.../index.php:42
( ! )

Notice: Use of undefined constant c - assumed 'c' in /home3/unternehmen/public_html/igroup/_layout/footer.php on line 1
Call Stack
#
Time
Memory
Function
Location
1
0.0005
224792
{main}( )
.../index.php:0
2
0.0008
249048
include( '/home3/unternehmen/public_html/igroup/_layout/footer.php' )
.../index.php:42
( ! )

Notice: Use of undefined constant c - assumed 'c' in /home3/unternehmen/public_html/igroup/_layout/footer.php on line 1
Call Stack
#
Time
Memory
Function
Location
1
0.0005
224792
{main}( )
.../index.php:0
2
0.0008
249048
include( '/home3/unternehmen/public_html/igroup/_layout/footer.php' )
.../index.php:42
( ! )

Notice: Use of undefined constant c - assumed 'c' in /home3/unternehmen/public_html/igroup/_layout/footer.php on line 1
Call Stack
#
Time
Memory
Function
Location
1
0.0005
224792
{main}( )
.../index.php:0
2
0.0008
249048
include( '/home3/unternehmen/public_html/igroup/_layout/footer.php' )
.../index.php:42
( ! )

Notice: Use of undefined constant c - assumed 'c' in /home3/unternehmen/public_html/igroup/_layout/footer.php on line 1
Call Stack
#
Time
Memory
Function
Location
1
0.0005
224792
{main}( )
.../index.php:0
2
0.0008
249048
include( '/home3/unternehmen/public_html/igroup/_layout/footer.php' )
.../index.php:42
( ! )

Notice: Use of undefined constant c - assumed 'c' in /home3/unternehmen/public_html/igroup/_layout/footer.php on line 1
Call Stack
#
Time
Memory
Function
Location
1
0.0005
224792
{main}( )
.../index.php:0
2
0.0008
249048
include( '/home3/unternehmen/public_html/igroup/_layout/footer.php' )
.../index.php:42
( ! )

Notice: Use of undefined constant c - assumed 'c' in /home3/unternehmen/public_html/igroup/_layout/footer.php on line 1
Call Stack
#
Time
Memory
Function
Location
1
0.0005
224792
{main}( )
.../index.php:0
2
0.0008
249048
include( '/home3/unternehmen/public_html/igroup/_layout/footer.php' )
.../index.php:42
( ! )

Notice: Use of undefined constant c - assumed 'c' in /home3/unternehmen/public_html/igroup/_layout/footer.php on line 1
Call Stack
#
Time
Memory
Function
Location
1
0.0005
224792
{main}( )
.../index.php:0
2
0.0008
249048
include( '/home3/unternehmen/public_html/igroup/_layout/footer.php' )
.../index.php:42
( ! )

Notice: Use of undefined constant c - assumed 'c' in /home3/unternehmen/public_html/igroup/_layout/footer.php on line 1
Call Stack
#
Time
Memory
Function
Location
1
0.0005
224792
{main}( )
.../index.php:0
2
0.0008
249048
include( '/home3/unternehmen/public_html/igroup/_layout/footer.php' )
.../index.php:42
( ! )

Notice: Use of undefined constant c - assumed 'c' in /home3/unternehmen/public_html/igroup/_layout/footer.php on line 1
Call Stack
#
Time
Memory
Function
Location
1
0.0005
224792
{main}( )
.../index.php:0
2
0.0008
249048
include( '/home3/unternehmen/public_html/igroup/_layout/footer.php' )
.../index.php:42
( ! )

Notice: Use of undefined constant c - assumed 'c' in /home3/unternehmen/public_html/igroup/_layout/footer.php on line 1
Call Stack
#
Time
Memory
Function
Location
1
0.0005
224792
{main}( )
.../index.php:0
2
0.0008
249048
include( '/home3/unternehmen/public_html/igroup/_layout/footer.php' )
.../index.php:42
( ! )

Notice: Use of undefined constant c - assumed 'c' in /home3/unternehmen/public_html/igroup/_layout/footer.php on line 1
Call Stack
#
Time
Memory
Function
Location
1
0.0005
224792
{main}( )
.../index.php:0
2
0.0008
249048
include( '/home3/unternehmen/public_html/igroup/_layout/footer.php' )
.../index.php:42
( ! )

Notice: Use of undefined constant c - assumed 'c' in /home3/unternehmen/public_html/igroup/_layout/footer.php on line 1
Call Stack
#
Time
Memory
Function
Location
1
0.0005
224792
{main}( )
.../index.php:0
2
0.0008
249048
include( '/home3/unternehmen/public_html/igroup/_layout/footer.php' )
.../index.php:42
( ! )

Notice: Use of undefined constant c - assumed 'c' in /home3/unternehmen/public_html/igroup/_layout/footer.php on line 1
Call Stack
#
Time
Memory
Function
Location
1
0.0005
224792
{main}( )
.../index.php:0
2
0.0008
249048
include( '/home3/unternehmen/public_html/igroup/_layout/footer.php' )
.../index.php:42
( ! )

Notice: Use of undefined constant c - assumed 'c' in /home3/unternehmen/public_html/igroup/_layout/footer.php on line 1
Call Stack
#
Time
Memory
Function
Location
1
0.0005
224792
{main}( )
.../index.php:0
2
0.0008
249048
include( '/home3/unternehmen/public_html/igroup/_layout/footer.php' )
.../index.php:42
( ! )

Notice: Use of undefined constant c - assumed 'c' in /home3/unternehmen/public_html/igroup/_layout/footer.php on line 1
Call Stack
#
Time
Memory
Function
Location
1
0.0005
224792
{main}( )
.../index.php:0
2
0.0008
249048
include( '/home3/unternehmen/public_html/igroup/_layout/footer.php' )
.../index.php:42
( ! )

Notice: Use of undefined constant c - assumed 'c' in /home3/unternehmen/public_html/igroup/_layout/footer.php on line 1
Call Stack
#
Time
Memory
Function
Location
1
0.0005
224792
{main}( )
.../index.php:0
2
0.0008
249048
include( '/home3/unternehmen/public_html/igroup/_layout/footer.php' )
.../index.php:42
( ! )

Notice: Use of undefined constant c - assumed 'c' in /home3/unternehmen/public_html/igroup/_layout/footer.php on line 1
Call Stack
#
Time
Memory
Function
Location
1
0.0005
224792
{main}( )
.../index.php:0
2
0.0008
249048
include( '/home3/unternehmen/public_html/igroup/_layout/footer.php' )
.../index.php:42
( ! )

Notice: Use of undefined constant c - assumed 'c' in /home3/unternehmen/public_html/igroup/_layout/footer.php on line 1
Call Stack
#
Time
Memory
Function
Location
1
0.0005
224792
{main}( )
.../index.php:0
2
0.0008
249048
include( '/home3/unternehmen/public_html/igroup/_layout/footer.php' )
.../index.php:42
( ! )

Notice: Use of undefined constant c - assumed 'c' in /home3/unternehmen/public_html/igroup/_layout/footer.php on line 1
Call Stack
#
Time
Memory
Function
Location
1
0.0005
224792
{main}( )
.../index.php:0
2
0.0008
249048
include( '/home3/unternehmen/public_html/igroup/_layout/footer.php' )
.../index.php:42
( ! )

Notice: Use of undefined constant c - assumed 'c' in /home3/unternehmen/public_html/igroup/_layout/footer.php on line 1
Call Stack
#
Time
Memory
Function
Location
1
0.0005
224792
{main}( )
.../index.php:0
2
0.0008
249048
include( '/home3/unternehmen/public_html/igroup/_layout/footer.php' )
.../index.php:42
( ! )

Notice: Use of undefined constant c - assumed 'c' in /home3/unternehmen/public_html/igroup/_layout/footer.php on line 1
Call Stack
#
Time
Memory
Function
Location
1
0.0005
224792
{main}( )
.../index.php:0
2
0.0008
249048
include( '/home3/unternehmen/public_html/igroup/_layout/footer.php' )
.../index.php:42
( ! )

Notice: Use of undefined constant c - assumed 'c' in /home3/unternehmen/public_html/igroup/_layout/footer.php on line 1
Call Stack
#
Time
Memory
Function
Location
1
0.0005
224792
{main}( )
.../index.php:0
2
0.0008
249048
include( '/home3/unternehmen/public_html/igroup/_layout/footer.php' )
.../index.php:42
( ! )

Notice: Use of undefined constant c - assumed 'c' in /home3/unternehmen/public_html/igroup/_layout/footer.php on line 1
Call Stack
#
Time
Memory
Function
Location
1
0.0005
224792
{main}( )
.../index.php:0
2
0.0008
249048
include( '/home3/unternehmen/public_html/igroup/_layout/footer.php' )
.../index.php:42
( ! )

Notice: Use of undefined constant c - assumed 'c' in /home3/unternehmen/public_html/igroup/_layout/footer.php on line 1
Call Stack
#
Time
Memory
Function
Location
1
0.0005
224792
{main}( )
.../index.php:0
2
0.0008
249048
include( '/home3/unternehmen/public_html/igroup/_layout/footer.php' )
.../index.php:42
( ! )

Notice: Use of undefined constant c - assumed 'c' in /home3/unternehmen/public_html/igroup/_layout/footer.php on line 1
Call Stack
#
Time
Memory
Function
Location
1
0.0005
224792
{main}( )
.../index.php:0
2
0.0008
249048
include( '/home3/unternehmen/public_html/igroup/_layout/footer.php' )
.../index.php:42
( ! )

Notice: Use of undefined constant c - assumed 'c' in /home3/unternehmen/public_html/igroup/_layout/footer.php on line 1
Call Stack
#
Time
Memory
Function
Location
1
0.0005
224792
{main}( )
.../index.php:0
2
0.0008
249048
include( '/home3/unternehmen/public_html/igroup/_layout/footer.php' )
.../index.php:42
( ! )

Notice: Use of undefined constant c - assumed 'c' in /home3/unternehmen/public_html/igroup/_layout/footer.php on line 1
Call Stack
#
Time
Memory
Function
Location
1
0.0005
224792
{main}( )
.../index.php:0
2
0.0008
249048
include( '/home3/unternehmen/public_html/igroup/_layout/footer.php' )
.../index.php:42
( ! )

Notice: Use of undefined constant c - assumed 'c' in /home3/unternehmen/public_html/igroup/_layout/footer.php on line 1
Call Stack
#
Time
Memory
Function
Location
1
0.0005
224792
{main}( )
.../index.php:0
2
0.0008
249048
include( '/home3/unternehmen/public_html/igroup/_layout/footer.php' )
.../index.php:42
( ! )

Notice: Use of undefined constant c - assumed 'c' in /home3/unternehmen/public_html/igroup/_layout/footer.php on line 1
Call Stack
#
Time
Memory
Function
Location
1
0.0005
224792
{main}( )
.../index.php:0
2
0.0008
249048
include( '/home3/unternehmen/public_html/igroup/_layout/footer.php' )
.../index.php:42
( ! )

Notice: Use of undefined constant c - assumed 'c' in /home3/unternehmen/public_html/igroup/_layout/footer.php on line 1
Call Stack
#
Time
Memory
Function
Location
1
0.0005
224792
{main}( )
.../index.php:0
2
0.0008
249048
include( '/home3/unternehmen/public_html/igroup/_layout/footer.php' )
.../index.php:42
( ! )

Notice: Use of undefined constant c - assumed 'c' in /home3/unternehmen/public_html/igroup/_layout/footer.php on line 1
Call Stack
#
Time
Memory
Function
Location
1
0.0005
224792
{main}( )
.../index.php:0
2
0.0008
249048
include( '/home3/unternehmen/public_html/igroup/_layout/footer.php' )
.../index.php:42
( ! )

Notice: Use of undefined constant c - assumed 'c' in /home3/unternehmen/public_html/igroup/_layout/footer.php on line 1
Call Stack
#
Time
Memory
Function
Location
1
0.0005
224792
{main}( )
.../index.php:0
2
0.0008
249048
include( '/home3/unternehmen/public_html/igroup/_layout/footer.php' )
.../index.php:42
( ! )

Notice: Use of undefined constant c - assumed 'c' in /home3/unternehmen/public_html/igroup/_layout/footer.php on line 1
Call Stack
#
Time
Memory
Function
Location
1
0.0005
224792
{main}( )
.../index.php:0
2
0.0008
249048
include( '/home3/unternehmen/public_html/igroup/_layout/footer.php' )
.../index.php:42
( ! )

Notice: Use of undefined constant c - assumed 'c' in /home3/unternehmen/public_html/igroup/_layout/footer.php on line 1
Call Stack
#
Time
Memory
Function
Location
1
0.0005
224792
{main}( )
.../index.php:0
2
0.0008
249048
include( '/home3/unternehmen/public_html/igroup/_layout/footer.php' )
.../index.php:42
( ! )

Notice: Use of undefined constant c - assumed 'c' in /home3/unternehmen/public_html/igroup/_layout/footer.php on line 1
Call Stack
#
Time
Memory
Function
Location
1
0.0005
224792
{main}( )
.../index.php:0
2
0.0008
249048
include( '/home3/unternehmen/public_html/igroup/_layout/footer.php' )
.../index.php:42
( ! )

Notice: Use of undefined constant c - assumed 'c' in /home3/unternehmen/public_html/igroup/_layout/footer.php on line 1
Call Stack
#
Time
Memory
Function
Location
1
0.0005
224792
{main}( )
.../index.php:0
2
0.0008
249048
include( '/home3/unternehmen/public_html/igroup/_layout/footer.php' )
.../index.php:42
( ! )

Notice: Use of undefined constant c - assumed 'c' in /home3/unternehmen/public_html/igroup/_layout/footer.php on line 1
Call Stack
#
Time
Memory
Function
Location
1
0.0005
224792
{main}( )
.../index.php:0
2
0.0008
249048
include( '/home3/unternehmen/public_html/igroup/_layout/footer.php' )
.../index.php:42
( ! )

Notice: Use of undefined constant c - assumed 'c' in /home3/unternehmen/public_html/igroup/_layout/footer.php on line 1
Call Stack
#
Time
Memory
Function
Location
1
0.0005
224792
{main}( )
.../index.php:0
2
0.0008
249048
include( '/home3/unternehmen/public_html/igroup/_layout/footer.php' )
.../index.php:42
( ! )

Notice: Use of undefined constant c - assumed 'c' in /home3/unternehmen/public_html/igroup/_layout/footer.php on line 1
Call Stack
#
Time
Memory
Function
Location
1
0.0005
224792
{main}( )
.../index.php:0
2
0.0008
249048
include( '/home3/unternehmen/public_html/igroup/_layout/footer.php' )
.../index.php:42
( ! )

Notice: Use of undefined constant c - assumed 'c' in /home3/unternehmen/public_html/igroup/_layout/footer.php on line 1
Call Stack
#
Time
Memory
Function
Location
1
0.0005
224792
{main}( )
.../index.php:0
2
0.0008
249048
include( '/home3/unternehmen/public_html/igroup/_layout/footer.php' )
.../index.php:42
( ! )

Notice: Use of undefined constant c - assumed 'c' in /home3/unternehmen/public_html/igroup/_layout/footer.php on line 1
Call Stack
#
Time
Memory
Function
Location
1
0.0005
224792
{main}( )
.../index.php:0
2
0.0008
249048
include( '/home3/unternehmen/public_html/igroup/_layout/footer.php' )
.../index.php:42
( ! )

Notice: Use of undefined constant c - assumed 'c' in /home3/unternehmen/public_html/igroup/_layout/footer.php on line 1
Call Stack
#
Time
Memory
Function
Location
1
0.0005
224792
{main}( )
.../index.php:0
2
0.0008
249048
include( '/home3/unternehmen/public_html/igroup/_layout/footer.php' )
.../index.php:42
( ! )

Notice: Use of undefined constant c - assumed 'c' in /home3/unternehmen/public_html/igroup/_layout/footer.php on line 1
Call Stack
#
Time
Memory
Function
Location
1
0.0005
224792
{main}( )
.../index.php:0
2
0.0008
249048
include( '/home3/unternehmen/public_html/igroup/_layout/footer.php' )
.../index.php:42
( ! )

Notice: Use of undefined constant c - assumed 'c' in /home3/unternehmen/public_html/igroup/_layout/footer.php on line 1
Call Stack
#
Time
Memory
Function
Location
1
0.0005
224792
{main}( )
.../index.php:0
2
0.0008
249048
include( '/home3/unternehmen/public_html/igroup/_layout/footer.php' )
.../index.php:42
( ! )

Notice: Use of undefined constant c - assumed 'c' in /home3/unternehmen/public_html/igroup/_layout/footer.php on line 1
Call Stack
#
Time
Memory
Function
Location
1
0.0005
224792
{main}( )
.../index.php:0
2
0.0008
249048
include( '/home3/unternehmen/public_html/igroup/_layout/footer.php' )
.../index.php:42
( ! )

Notice: Use of undefined constant c - assumed 'c' in /home3/unternehmen/public_html/igroup/_layout/footer.php on line 1
Call Stack
#
Time
Memory
Function
Location
1
0.0005
224792
{main}( )
.../index.php:0
2
0.0008
249048
include( '/home3/unternehmen/public_html/igroup/_layout/footer.php' )
.../index.php:42
( ! )

Notice: Use of undefined constant c - assumed 'c' in /home3/unternehmen/public_html/igroup/_layout/footer.php on line 1
Call Stack
#
Time
Memory
Function
Location
1
0.0005
224792
{main}( )
.../index.php:0
2
0.0008
249048
include( '/home3/unternehmen/public_html/igroup/_layout/footer.php' )
.../index.php:42
( ! )

Notice: Use of undefined constant c - assumed 'c' in /home3/unternehmen/public_html/igroup/_layout/footer.php on line 1
Call Stack
#
Time
Memory
Function
Location
1
0.0005
224792
{main}( )
.../index.php:0
2
0.0008
249048
include( '/home3/unternehmen/public_html/igroup/_layout/footer.php' )
.../index.php:42
( ! )

Notice: Use of undefined constant c - assumed 'c' in /home3/unternehmen/public_html/igroup/_layout/footer.php on line 1
Call Stack
#
Time
Memory
Function
Location
1
0.0005
224792
{main}( )
.../index.php:0
2
0.0008
249048
include( '/home3/unternehmen/public_html/igroup/_layout/footer.php' )
.../index.php:42
( ! )

Notice: Use of undefined constant c - assumed 'c' in /home3/unternehmen/public_html/igroup/_layout/footer.php on line 1
Call Stack
#
Time
Memory
Function
Location
1
0.0005
224792
{main}( )
.../index.php:0
2
0.0008
249048
include( '/home3/unternehmen/public_html/igroup/_layout/footer.php' )
.../index.php:42
( ! )

Notice: Use of undefined constant c - assumed 'c' in /home3/unternehmen/public_html/igroup/_layout/footer.php on line 1
Call Stack
#
Time
Memory
Function
Location
1
0.0005
224792
{main}( )
.../index.php:0
2
0.0008
249048
include( '/home3/unternehmen/public_html/igroup/_layout/footer.php' )
.../index.php:42
( ! )

Notice: Use of undefined constant c - assumed 'c' in /home3/unternehmen/public_html/igroup/_layout/footer.php on line 1
Call Stack
#
Time
Memory
Function
Location
1
0.0005
224792
{main}( )
.../index.php:0
2
0.0008
249048
include( '/home3/unternehmen/public_html/igroup/_layout/footer.php' )
.../index.php:42
( ! )

Notice: Use of undefined constant c - assumed 'c' in /home3/unternehmen/public_html/igroup/_layout/footer.php on line 1
Call Stack
#
Time
Memory
Function
Location
1
0.0005
224792
{main}( )
.../index.php:0
2
0.0008
249048
include( '/home3/unternehmen/public_html/igroup/_layout/footer.php' )
.../index.php:42
( ! )

Notice: Use of undefined constant c - assumed 'c' in /home3/unternehmen/public_html/igroup/_layout/footer.php on line 1
Call Stack
#
Time
Memory
Function
Location
1
0.0005
224792
{main}( )
.../index.php:0
2
0.0008
249048
include( '/home3/unternehmen/public_html/igroup/_layout/footer.php' )
.../index.php:42
( ! )

Notice: Use of undefined constant c - assumed 'c' in /home3/unternehmen/public_html/igroup/_layout/footer.php on line 1
Call Stack
#
Time
Memory
Function
Location
1
0.0005
224792
{main}( )
.../index.php:0
2
0.0008
249048
include( '/home3/unternehmen/public_html/igroup/_layout/footer.php' )
.../index.php:42
( ! )

Notice: Undefined offset: 12 in /home3/unternehmen/public_html/igroup/_layout/footer.php on line 1
Call Stack
#
Time
Memory
Function
Location
1
0.0005
224792
{main}( )
.../index.php:0
2
0.0008
249048
include( '/home3/unternehmen/public_html/igroup/_layout/footer.php' )
.../index.php:42