platform – A Virtual Reality Furniture
abstract
Platform is a furniture construction especially designed for the use in immersive Virtual Reality (VR) environments. Users wearing a head-mounted display (HMD) as used in many VR application scenarios are given a place/space for an almost unconstraint physical movement through the real and virtual world. A physical space of about 4 x 4 x 2.5 metersł is provided. Within this space there are no obstructions to the movement of the actor. The actor interacts on a circular floor with about 4 meters in diameter. The hmd and the tracker cables are lead through a rod-like construction. Integrated into the whole system is all the equipment needed for demonstrations and development.
main features
very decorative / impressive high-tech furniture
can be used with any head-mounted display type
supports a real walking metaphor within virtual worlds
provides space for all equipment needed for presentation and design / development
can be moved from one place to another in less than 12 hours (deassembly, assembly)
the whole construction is free of any metals and can therefore be used with any magnetic tracking system (e.g. Polhemus, Ascension)
was tested with hundreds of users
application fields
3D product evaluation
VR research and development
rapid prototyping and digital mockup
immersive modeling
interface evaluation (3D User Interfaces - 3DUI)
all kinds of presentations, fairs, shows etc.
references
Regenbrecht, H., & Donath, D. (1997). Architectural Education and Virtual Reality Aided Design (VRAD). In Daniela Bertol (ed.). Designing Digital Space - An Architect´s Guide to Virtual Reality. John Wiley & Sons, Inc., New York/NY.
used in educational training at Bauhaus University Weimar for over 5 years
two times shown at Hannover fair Cebit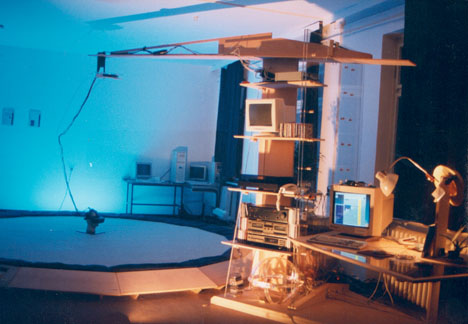 platform at atelier-virtual

the designmodel, the crafted platform, presentation at CebIT1996

furniture details, materials are free of metal
( ! )

Notice: Use of undefined constant c - assumed 'c' in /home3/unternehmen/public_html/igroup/_layout/footer.php on line 1
Call Stack
#
Time
Memory
Function
Location
1
0.0007
224792
{main}( )
.../index.php:0
2
0.0010
249048
include( '/home3/unternehmen/public_html/igroup/_layout/footer.php' )
.../index.php:50
( ! )

Notice: Use of undefined constant c - assumed 'c' in /home3/unternehmen/public_html/igroup/_layout/footer.php on line 1
Call Stack
#
Time
Memory
Function
Location
1
0.0007
224792
{main}( )
.../index.php:0
2
0.0010
249048
include( '/home3/unternehmen/public_html/igroup/_layout/footer.php' )
.../index.php:50
( ! )

Notice: Use of undefined constant c - assumed 'c' in /home3/unternehmen/public_html/igroup/_layout/footer.php on line 1
Call Stack
#
Time
Memory
Function
Location
1
0.0007
224792
{main}( )
.../index.php:0
2
0.0010
249048
include( '/home3/unternehmen/public_html/igroup/_layout/footer.php' )
.../index.php:50
( ! )

Notice: Use of undefined constant c - assumed 'c' in /home3/unternehmen/public_html/igroup/_layout/footer.php on line 1
Call Stack
#
Time
Memory
Function
Location
1
0.0007
224792
{main}( )
.../index.php:0
2
0.0010
249048
include( '/home3/unternehmen/public_html/igroup/_layout/footer.php' )
.../index.php:50
( ! )

Notice: Use of undefined constant c - assumed 'c' in /home3/unternehmen/public_html/igroup/_layout/footer.php on line 1
Call Stack
#
Time
Memory
Function
Location
1
0.0007
224792
{main}( )
.../index.php:0
2
0.0010
249048
include( '/home3/unternehmen/public_html/igroup/_layout/footer.php' )
.../index.php:50
( ! )

Notice: Use of undefined constant c - assumed 'c' in /home3/unternehmen/public_html/igroup/_layout/footer.php on line 1
Call Stack
#
Time
Memory
Function
Location
1
0.0007
224792
{main}( )
.../index.php:0
2
0.0010
249048
include( '/home3/unternehmen/public_html/igroup/_layout/footer.php' )
.../index.php:50
( ! )

Notice: Use of undefined constant c - assumed 'c' in /home3/unternehmen/public_html/igroup/_layout/footer.php on line 1
Call Stack
#
Time
Memory
Function
Location
1
0.0007
224792
{main}( )
.../index.php:0
2
0.0010
249048
include( '/home3/unternehmen/public_html/igroup/_layout/footer.php' )
.../index.php:50
( ! )

Notice: Use of undefined constant c - assumed 'c' in /home3/unternehmen/public_html/igroup/_layout/footer.php on line 1
Call Stack
#
Time
Memory
Function
Location
1
0.0007
224792
{main}( )
.../index.php:0
2
0.0010
249048
include( '/home3/unternehmen/public_html/igroup/_layout/footer.php' )
.../index.php:50
( ! )

Notice: Use of undefined constant c - assumed 'c' in /home3/unternehmen/public_html/igroup/_layout/footer.php on line 1
Call Stack
#
Time
Memory
Function
Location
1
0.0007
224792
{main}( )
.../index.php:0
2
0.0010
249048
include( '/home3/unternehmen/public_html/igroup/_layout/footer.php' )
.../index.php:50
( ! )

Notice: Use of undefined constant c - assumed 'c' in /home3/unternehmen/public_html/igroup/_layout/footer.php on line 1
Call Stack
#
Time
Memory
Function
Location
1
0.0007
224792
{main}( )
.../index.php:0
2
0.0010
249048
include( '/home3/unternehmen/public_html/igroup/_layout/footer.php' )
.../index.php:50
( ! )

Notice: Use of undefined constant c - assumed 'c' in /home3/unternehmen/public_html/igroup/_layout/footer.php on line 1
Call Stack
#
Time
Memory
Function
Location
1
0.0007
224792
{main}( )
.../index.php:0
2
0.0010
249048
include( '/home3/unternehmen/public_html/igroup/_layout/footer.php' )
.../index.php:50
( ! )

Notice: Use of undefined constant c - assumed 'c' in /home3/unternehmen/public_html/igroup/_layout/footer.php on line 1
Call Stack
#
Time
Memory
Function
Location
1
0.0007
224792
{main}( )
.../index.php:0
2
0.0010
249048
include( '/home3/unternehmen/public_html/igroup/_layout/footer.php' )
.../index.php:50
( ! )

Notice: Use of undefined constant c - assumed 'c' in /home3/unternehmen/public_html/igroup/_layout/footer.php on line 1
Call Stack
#
Time
Memory
Function
Location
1
0.0007
224792
{main}( )
.../index.php:0
2
0.0010
249048
include( '/home3/unternehmen/public_html/igroup/_layout/footer.php' )
.../index.php:50
( ! )

Notice: Use of undefined constant c - assumed 'c' in /home3/unternehmen/public_html/igroup/_layout/footer.php on line 1
Call Stack
#
Time
Memory
Function
Location
1
0.0007
224792
{main}( )
.../index.php:0
2
0.0010
249048
include( '/home3/unternehmen/public_html/igroup/_layout/footer.php' )
.../index.php:50
( ! )

Notice: Use of undefined constant c - assumed 'c' in /home3/unternehmen/public_html/igroup/_layout/footer.php on line 1
Call Stack
#
Time
Memory
Function
Location
1
0.0007
224792
{main}( )
.../index.php:0
2
0.0010
249048
include( '/home3/unternehmen/public_html/igroup/_layout/footer.php' )
.../index.php:50
( ! )

Notice: Use of undefined constant c - assumed 'c' in /home3/unternehmen/public_html/igroup/_layout/footer.php on line 1
Call Stack
#
Time
Memory
Function
Location
1
0.0007
224792
{main}( )
.../index.php:0
2
0.0010
249048
include( '/home3/unternehmen/public_html/igroup/_layout/footer.php' )
.../index.php:50
( ! )

Notice: Use of undefined constant c - assumed 'c' in /home3/unternehmen/public_html/igroup/_layout/footer.php on line 1
Call Stack
#
Time
Memory
Function
Location
1
0.0007
224792
{main}( )
.../index.php:0
2
0.0010
249048
include( '/home3/unternehmen/public_html/igroup/_layout/footer.php' )
.../index.php:50
( ! )

Notice: Use of undefined constant c - assumed 'c' in /home3/unternehmen/public_html/igroup/_layout/footer.php on line 1
Call Stack
#
Time
Memory
Function
Location
1
0.0007
224792
{main}( )
.../index.php:0
2
0.0010
249048
include( '/home3/unternehmen/public_html/igroup/_layout/footer.php' )
.../index.php:50
( ! )

Notice: Use of undefined constant c - assumed 'c' in /home3/unternehmen/public_html/igroup/_layout/footer.php on line 1
Call Stack
#
Time
Memory
Function
Location
1
0.0007
224792
{main}( )
.../index.php:0
2
0.0010
249048
include( '/home3/unternehmen/public_html/igroup/_layout/footer.php' )
.../index.php:50
( ! )

Notice: Use of undefined constant c - assumed 'c' in /home3/unternehmen/public_html/igroup/_layout/footer.php on line 1
Call Stack
#
Time
Memory
Function
Location
1
0.0007
224792
{main}( )
.../index.php:0
2
0.0010
249048
include( '/home3/unternehmen/public_html/igroup/_layout/footer.php' )
.../index.php:50
( ! )

Notice: Use of undefined constant c - assumed 'c' in /home3/unternehmen/public_html/igroup/_layout/footer.php on line 1
Call Stack
#
Time
Memory
Function
Location
1
0.0007
224792
{main}( )
.../index.php:0
2
0.0010
249048
include( '/home3/unternehmen/public_html/igroup/_layout/footer.php' )
.../index.php:50
( ! )

Notice: Use of undefined constant c - assumed 'c' in /home3/unternehmen/public_html/igroup/_layout/footer.php on line 1
Call Stack
#
Time
Memory
Function
Location
1
0.0007
224792
{main}( )
.../index.php:0
2
0.0010
249048
include( '/home3/unternehmen/public_html/igroup/_layout/footer.php' )
.../index.php:50
( ! )

Notice: Use of undefined constant c - assumed 'c' in /home3/unternehmen/public_html/igroup/_layout/footer.php on line 1
Call Stack
#
Time
Memory
Function
Location
1
0.0007
224792
{main}( )
.../index.php:0
2
0.0010
249048
include( '/home3/unternehmen/public_html/igroup/_layout/footer.php' )
.../index.php:50
( ! )

Notice: Use of undefined constant c - assumed 'c' in /home3/unternehmen/public_html/igroup/_layout/footer.php on line 1
Call Stack
#
Time
Memory
Function
Location
1
0.0007
224792
{main}( )
.../index.php:0
2
0.0010
249048
include( '/home3/unternehmen/public_html/igroup/_layout/footer.php' )
.../index.php:50
( ! )

Notice: Use of undefined constant c - assumed 'c' in /home3/unternehmen/public_html/igroup/_layout/footer.php on line 1
Call Stack
#
Time
Memory
Function
Location
1
0.0007
224792
{main}( )
.../index.php:0
2
0.0010
249048
include( '/home3/unternehmen/public_html/igroup/_layout/footer.php' )
.../index.php:50
( ! )

Notice: Use of undefined constant c - assumed 'c' in /home3/unternehmen/public_html/igroup/_layout/footer.php on line 1
Call Stack
#
Time
Memory
Function
Location
1
0.0007
224792
{main}( )
.../index.php:0
2
0.0010
249048
include( '/home3/unternehmen/public_html/igroup/_layout/footer.php' )
.../index.php:50
( ! )

Notice: Use of undefined constant c - assumed 'c' in /home3/unternehmen/public_html/igroup/_layout/footer.php on line 1
Call Stack
#
Time
Memory
Function
Location
1
0.0007
224792
{main}( )
.../index.php:0
2
0.0010
249048
include( '/home3/unternehmen/public_html/igroup/_layout/footer.php' )
.../index.php:50
( ! )

Notice: Use of undefined constant c - assumed 'c' in /home3/unternehmen/public_html/igroup/_layout/footer.php on line 1
Call Stack
#
Time
Memory
Function
Location
1
0.0007
224792
{main}( )
.../index.php:0
2
0.0010
249048
include( '/home3/unternehmen/public_html/igroup/_layout/footer.php' )
.../index.php:50
( ! )

Notice: Use of undefined constant c - assumed 'c' in /home3/unternehmen/public_html/igroup/_layout/footer.php on line 1
Call Stack
#
Time
Memory
Function
Location
1
0.0007
224792
{main}( )
.../index.php:0
2
0.0010
249048
include( '/home3/unternehmen/public_html/igroup/_layout/footer.php' )
.../index.php:50
( ! )

Notice: Use of undefined constant c - assumed 'c' in /home3/unternehmen/public_html/igroup/_layout/footer.php on line 1
Call Stack
#
Time
Memory
Function
Location
1
0.0007
224792
{main}( )
.../index.php:0
2
0.0010
249048
include( '/home3/unternehmen/public_html/igroup/_layout/footer.php' )
.../index.php:50
( ! )

Notice: Use of undefined constant c - assumed 'c' in /home3/unternehmen/public_html/igroup/_layout/footer.php on line 1
Call Stack
#
Time
Memory
Function
Location
1
0.0007
224792
{main}( )
.../index.php:0
2
0.0010
249048
include( '/home3/unternehmen/public_html/igroup/_layout/footer.php' )
.../index.php:50
( ! )

Notice: Use of undefined constant c - assumed 'c' in /home3/unternehmen/public_html/igroup/_layout/footer.php on line 1
Call Stack
#
Time
Memory
Function
Location
1
0.0007
224792
{main}( )
.../index.php:0
2
0.0010
249048
include( '/home3/unternehmen/public_html/igroup/_layout/footer.php' )
.../index.php:50
( ! )

Notice: Use of undefined constant c - assumed 'c' in /home3/unternehmen/public_html/igroup/_layout/footer.php on line 1
Call Stack
#
Time
Memory
Function
Location
1
0.0007
224792
{main}( )
.../index.php:0
2
0.0010
249048
include( '/home3/unternehmen/public_html/igroup/_layout/footer.php' )
.../index.php:50
( ! )

Notice: Use of undefined constant c - assumed 'c' in /home3/unternehmen/public_html/igroup/_layout/footer.php on line 1
Call Stack
#
Time
Memory
Function
Location
1
0.0007
224792
{main}( )
.../index.php:0
2
0.0010
249048
include( '/home3/unternehmen/public_html/igroup/_layout/footer.php' )
.../index.php:50
( ! )

Notice: Use of undefined constant c - assumed 'c' in /home3/unternehmen/public_html/igroup/_layout/footer.php on line 1
Call Stack
#
Time
Memory
Function
Location
1
0.0007
224792
{main}( )
.../index.php:0
2
0.0010
249048
include( '/home3/unternehmen/public_html/igroup/_layout/footer.php' )
.../index.php:50
( ! )

Notice: Use of undefined constant c - assumed 'c' in /home3/unternehmen/public_html/igroup/_layout/footer.php on line 1
Call Stack
#
Time
Memory
Function
Location
1
0.0007
224792
{main}( )
.../index.php:0
2
0.0010
249048
include( '/home3/unternehmen/public_html/igroup/_layout/footer.php' )
.../index.php:50
( ! )

Notice: Use of undefined constant c - assumed 'c' in /home3/unternehmen/public_html/igroup/_layout/footer.php on line 1
Call Stack
#
Time
Memory
Function
Location
1
0.0007
224792
{main}( )
.../index.php:0
2
0.0010
249048
include( '/home3/unternehmen/public_html/igroup/_layout/footer.php' )
.../index.php:50
( ! )

Notice: Use of undefined constant c - assumed 'c' in /home3/unternehmen/public_html/igroup/_layout/footer.php on line 1
Call Stack
#
Time
Memory
Function
Location
1
0.0007
224792
{main}( )
.../index.php:0
2
0.0010
249048
include( '/home3/unternehmen/public_html/igroup/_layout/footer.php' )
.../index.php:50
( ! )

Notice: Use of undefined constant c - assumed 'c' in /home3/unternehmen/public_html/igroup/_layout/footer.php on line 1
Call Stack
#
Time
Memory
Function
Location
1
0.0007
224792
{main}( )
.../index.php:0
2
0.0010
249048
include( '/home3/unternehmen/public_html/igroup/_layout/footer.php' )
.../index.php:50
( ! )

Notice: Use of undefined constant c - assumed 'c' in /home3/unternehmen/public_html/igroup/_layout/footer.php on line 1
Call Stack
#
Time
Memory
Function
Location
1
0.0007
224792
{main}( )
.../index.php:0
2
0.0010
249048
include( '/home3/unternehmen/public_html/igroup/_layout/footer.php' )
.../index.php:50
( ! )

Notice: Use of undefined constant c - assumed 'c' in /home3/unternehmen/public_html/igroup/_layout/footer.php on line 1
Call Stack
#
Time
Memory
Function
Location
1
0.0007
224792
{main}( )
.../index.php:0
2
0.0010
249048
include( '/home3/unternehmen/public_html/igroup/_layout/footer.php' )
.../index.php:50
( ! )

Notice: Use of undefined constant c - assumed 'c' in /home3/unternehmen/public_html/igroup/_layout/footer.php on line 1
Call Stack
#
Time
Memory
Function
Location
1
0.0007
224792
{main}( )
.../index.php:0
2
0.0010
249048
include( '/home3/unternehmen/public_html/igroup/_layout/footer.php' )
.../index.php:50
( ! )

Notice: Use of undefined constant c - assumed 'c' in /home3/unternehmen/public_html/igroup/_layout/footer.php on line 1
Call Stack
#
Time
Memory
Function
Location
1
0.0007
224792
{main}( )
.../index.php:0
2
0.0010
249048
include( '/home3/unternehmen/public_html/igroup/_layout/footer.php' )
.../index.php:50
( ! )

Notice: Use of undefined constant c - assumed 'c' in /home3/unternehmen/public_html/igroup/_layout/footer.php on line 1
Call Stack
#
Time
Memory
Function
Location
1
0.0007
224792
{main}( )
.../index.php:0
2
0.0010
249048
include( '/home3/unternehmen/public_html/igroup/_layout/footer.php' )
.../index.php:50
( ! )

Notice: Use of undefined constant c - assumed 'c' in /home3/unternehmen/public_html/igroup/_layout/footer.php on line 1
Call Stack
#
Time
Memory
Function
Location
1
0.0007
224792
{main}( )
.../index.php:0
2
0.0010
249048
include( '/home3/unternehmen/public_html/igroup/_layout/footer.php' )
.../index.php:50
( ! )

Notice: Use of undefined constant c - assumed 'c' in /home3/unternehmen/public_html/igroup/_layout/footer.php on line 1
Call Stack
#
Time
Memory
Function
Location
1
0.0007
224792
{main}( )
.../index.php:0
2
0.0010
249048
include( '/home3/unternehmen/public_html/igroup/_layout/footer.php' )
.../index.php:50
( ! )

Notice: Use of undefined constant c - assumed 'c' in /home3/unternehmen/public_html/igroup/_layout/footer.php on line 1
Call Stack
#
Time
Memory
Function
Location
1
0.0007
224792
{main}( )
.../index.php:0
2
0.0010
249048
include( '/home3/unternehmen/public_html/igroup/_layout/footer.php' )
.../index.php:50
( ! )

Notice: Use of undefined constant c - assumed 'c' in /home3/unternehmen/public_html/igroup/_layout/footer.php on line 1
Call Stack
#
Time
Memory
Function
Location
1
0.0007
224792
{main}( )
.../index.php:0
2
0.0010
249048
include( '/home3/unternehmen/public_html/igroup/_layout/footer.php' )
.../index.php:50
( ! )

Notice: Use of undefined constant c - assumed 'c' in /home3/unternehmen/public_html/igroup/_layout/footer.php on line 1
Call Stack
#
Time
Memory
Function
Location
1
0.0007
224792
{main}( )
.../index.php:0
2
0.0010
249048
include( '/home3/unternehmen/public_html/igroup/_layout/footer.php' )
.../index.php:50
( ! )

Notice: Use of undefined constant c - assumed 'c' in /home3/unternehmen/public_html/igroup/_layout/footer.php on line 1
Call Stack
#
Time
Memory
Function
Location
1
0.0007
224792
{main}( )
.../index.php:0
2
0.0010
249048
include( '/home3/unternehmen/public_html/igroup/_layout/footer.php' )
.../index.php:50
( ! )

Notice: Use of undefined constant c - assumed 'c' in /home3/unternehmen/public_html/igroup/_layout/footer.php on line 1
Call Stack
#
Time
Memory
Function
Location
1
0.0007
224792
{main}( )
.../index.php:0
2
0.0010
249048
include( '/home3/unternehmen/public_html/igroup/_layout/footer.php' )
.../index.php:50
( ! )

Notice: Use of undefined constant c - assumed 'c' in /home3/unternehmen/public_html/igroup/_layout/footer.php on line 1
Call Stack
#
Time
Memory
Function
Location
1
0.0007
224792
{main}( )
.../index.php:0
2
0.0010
249048
include( '/home3/unternehmen/public_html/igroup/_layout/footer.php' )
.../index.php:50
( ! )

Notice: Use of undefined constant c - assumed 'c' in /home3/unternehmen/public_html/igroup/_layout/footer.php on line 1
Call Stack
#
Time
Memory
Function
Location
1
0.0007
224792
{main}( )
.../index.php:0
2
0.0010
249048
include( '/home3/unternehmen/public_html/igroup/_layout/footer.php' )
.../index.php:50
( ! )

Notice: Use of undefined constant c - assumed 'c' in /home3/unternehmen/public_html/igroup/_layout/footer.php on line 1
Call Stack
#
Time
Memory
Function
Location
1
0.0007
224792
{main}( )
.../index.php:0
2
0.0010
249048
include( '/home3/unternehmen/public_html/igroup/_layout/footer.php' )
.../index.php:50
( ! )

Notice: Use of undefined constant c - assumed 'c' in /home3/unternehmen/public_html/igroup/_layout/footer.php on line 1
Call Stack
#
Time
Memory
Function
Location
1
0.0007
224792
{main}( )
.../index.php:0
2
0.0010
249048
include( '/home3/unternehmen/public_html/igroup/_layout/footer.php' )
.../index.php:50
( ! )

Notice: Use of undefined constant c - assumed 'c' in /home3/unternehmen/public_html/igroup/_layout/footer.php on line 1
Call Stack
#
Time
Memory
Function
Location
1
0.0007
224792
{main}( )
.../index.php:0
2
0.0010
249048
include( '/home3/unternehmen/public_html/igroup/_layout/footer.php' )
.../index.php:50
( ! )

Notice: Use of undefined constant c - assumed 'c' in /home3/unternehmen/public_html/igroup/_layout/footer.php on line 1
Call Stack
#
Time
Memory
Function
Location
1
0.0007
224792
{main}( )
.../index.php:0
2
0.0010
249048
include( '/home3/unternehmen/public_html/igroup/_layout/footer.php' )
.../index.php:50
( ! )

Notice: Use of undefined constant c - assumed 'c' in /home3/unternehmen/public_html/igroup/_layout/footer.php on line 1
Call Stack
#
Time
Memory
Function
Location
1
0.0007
224792
{main}( )
.../index.php:0
2
0.0010
249048
include( '/home3/unternehmen/public_html/igroup/_layout/footer.php' )
.../index.php:50
( ! )

Notice: Use of undefined constant c - assumed 'c' in /home3/unternehmen/public_html/igroup/_layout/footer.php on line 1
Call Stack
#
Time
Memory
Function
Location
1
0.0007
224792
{main}( )
.../index.php:0
2
0.0010
249048
include( '/home3/unternehmen/public_html/igroup/_layout/footer.php' )
.../index.php:50
( ! )

Notice: Use of undefined constant c - assumed 'c' in /home3/unternehmen/public_html/igroup/_layout/footer.php on line 1
Call Stack
#
Time
Memory
Function
Location
1
0.0007
224792
{main}( )
.../index.php:0
2
0.0010
249048
include( '/home3/unternehmen/public_html/igroup/_layout/footer.php' )
.../index.php:50
( ! )

Notice: Use of undefined constant c - assumed 'c' in /home3/unternehmen/public_html/igroup/_layout/footer.php on line 1
Call Stack
#
Time
Memory
Function
Location
1
0.0007
224792
{main}( )
.../index.php:0
2
0.0010
249048
include( '/home3/unternehmen/public_html/igroup/_layout/footer.php' )
.../index.php:50
( ! )

Notice: Use of undefined constant c - assumed 'c' in /home3/unternehmen/public_html/igroup/_layout/footer.php on line 1
Call Stack
#
Time
Memory
Function
Location
1
0.0007
224792
{main}( )
.../index.php:0
2
0.0010
249048
include( '/home3/unternehmen/public_html/igroup/_layout/footer.php' )
.../index.php:50
( ! )

Notice: Use of undefined constant c - assumed 'c' in /home3/unternehmen/public_html/igroup/_layout/footer.php on line 1
Call Stack
#
Time
Memory
Function
Location
1
0.0007
224792
{main}( )
.../index.php:0
2
0.0010
249048
include( '/home3/unternehmen/public_html/igroup/_layout/footer.php' )
.../index.php:50
( ! )

Notice: Use of undefined constant c - assumed 'c' in /home3/unternehmen/public_html/igroup/_layout/footer.php on line 1
Call Stack
#
Time
Memory
Function
Location
1
0.0007
224792
{main}( )
.../index.php:0
2
0.0010
249048
include( '/home3/unternehmen/public_html/igroup/_layout/footer.php' )
.../index.php:50
( ! )

Notice: Use of undefined constant c - assumed 'c' in /home3/unternehmen/public_html/igroup/_layout/footer.php on line 1
Call Stack
#
Time
Memory
Function
Location
1
0.0007
224792
{main}( )
.../index.php:0
2
0.0010
249048
include( '/home3/unternehmen/public_html/igroup/_layout/footer.php' )
.../index.php:50
( ! )

Notice: Use of undefined constant c - assumed 'c' in /home3/unternehmen/public_html/igroup/_layout/footer.php on line 1
Call Stack
#
Time
Memory
Function
Location
1
0.0007
224792
{main}( )
.../index.php:0
2
0.0010
249048
include( '/home3/unternehmen/public_html/igroup/_layout/footer.php' )
.../index.php:50
( ! )

Notice: Use of undefined constant c - assumed 'c' in /home3/unternehmen/public_html/igroup/_layout/footer.php on line 1
Call Stack
#
Time
Memory
Function
Location
1
0.0007
224792
{main}( )
.../index.php:0
2
0.0010
249048
include( '/home3/unternehmen/public_html/igroup/_layout/footer.php' )
.../index.php:50
( ! )

Notice: Use of undefined constant c - assumed 'c' in /home3/unternehmen/public_html/igroup/_layout/footer.php on line 1
Call Stack
#
Time
Memory
Function
Location
1
0.0007
224792
{main}( )
.../index.php:0
2
0.0010
249048
include( '/home3/unternehmen/public_html/igroup/_layout/footer.php' )
.../index.php:50
( ! )

Notice: Use of undefined constant c - assumed 'c' in /home3/unternehmen/public_html/igroup/_layout/footer.php on line 1
Call Stack
#
Time
Memory
Function
Location
1
0.0007
224792
{main}( )
.../index.php:0
2
0.0010
249048
include( '/home3/unternehmen/public_html/igroup/_layout/footer.php' )
.../index.php:50
( ! )

Notice: Use of undefined constant c - assumed 'c' in /home3/unternehmen/public_html/igroup/_layout/footer.php on line 1
Call Stack
#
Time
Memory
Function
Location
1
0.0007
224792
{main}( )
.../index.php:0
2
0.0010
249048
include( '/home3/unternehmen/public_html/igroup/_layout/footer.php' )
.../index.php:50
( ! )

Notice: Use of undefined constant c - assumed 'c' in /home3/unternehmen/public_html/igroup/_layout/footer.php on line 1
Call Stack
#
Time
Memory
Function
Location
1
0.0007
224792
{main}( )
.../index.php:0
2
0.0010
249048
include( '/home3/unternehmen/public_html/igroup/_layout/footer.php' )
.../index.php:50
( ! )

Notice: Undefined offset: 12 in /home3/unternehmen/public_html/igroup/_layout/footer.php on line 1
Call Stack
#
Time
Memory
Function
Location
1
0.0007
224792
{main}( )
.../index.php:0
2
0.0010
249048
include( '/home3/unternehmen/public_html/igroup/_layout/footer.php' )
.../index.php:50